Facebook dating
Tinder
Bumble
Okcupid
Hinge
Since the pandemic it's been hard to meet potential partners, because going out and being social is being discouraged but this can't be an excuse to find a love life because there are many free online dating APP that you can choose.
Facebook dating
As a social network, facebook dating is free for everyone so you don't need to bother for gold membership or tinder plus to access premium features. Everything is already at your fingertips, no upgrades necessary. This also can be used as a mobile application that is accessible through facebook profile.
A2
Joining facebook dating will not impact your public facebook life it will not appear in your facebook activity, it will not change your relationship status and it will not send notifications to your existing facebook friends.
The only reason your fb friend would even see your dating profile is if the secret crash feature would identify you as a mutual match.
The app's matchmaking process is straightforward; when you arrive on the app's homepage you will see a facebook dating profile in the heart to show your interest click the start to favorite the profile or click x to see another profile this app doesn't allow online dating users to swipe endlessly.
The facebook app will eventually cut you off with a gentle reminder to take a break from the app but you can come back 24 hours later to get new matches.
So if you want to put yourself out there and create a meaningful relationship it is recommended to try facebook dating.
Tinder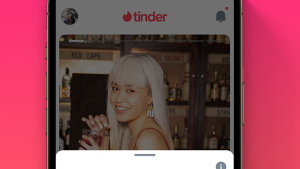 Number two, probably the most popular one, is free for everyone to use and its singularity is
global dating platform and is available in over 190 countries worldwide.
In this dating APP you can simply swipe through profiles of each potential match as you select the photos, you can select a heart icon or an x or you can swipe to the right if you like that certain profile and if you don't like it you can simply swipe it to the left.
So if you like a profile who also likes your photo then you'll be alerted that you have a match and you'll be able to message your potential date as easy as that.
As we said this app is free but you can pay for tinder plus and tinder gold which offer additional functions and features
Bumble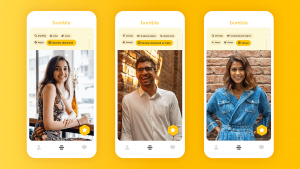 Number three is another free online meeting app with the option to purchase an upgraded membership.
You can choose between bumble premium or bumble boost just like tinder, bumble enables users to find match by swiping to the right if you like the profile and to the left if you don't.
The only difference is that in bumble it should be the woman who's gonna send a message first but for same-sex couples either person can initiate the contact if you want your matches to be screened for certain qualities or criteria like the level of education. You can purchase a premium service for that.
Okcupid
This is an international free popular dating website and app that allows you to browse profiles and reach out to anyone you want to connect with and can also pay for premium services.
Those premium services can make the site a little easier to navigate in the paid version, so you can see who likes you before you like them but in the free version you cannot see who has clicked like on your profile unless you also like them.
In order to get an ideal percentage match the dating app provides a personality quiz for potential partners in Europe; Spain, Portugal, France, Germany, England also in USA, and Asia countries as Philippines or Thailand.
Hinge
First, this APP is only available on your phone and not on your desktop or laptop. This is a free dating platform but just like all other landing sites mentioned before, you can navigate more easily in the side if you pay for the premium version as a member.
In Hinge app you are free to use all of its contacting features sending likes comments messages are all without charge preferred members meaning those who avail for the premium subscription get an unlimited number of likes as opposed to standard members who have a daily limit of sending 10 likes only.
In short, Hinge is a good place for singles who are looking into finding something more from a normal dating app. It is built to match like-minded people who are seeking serious dates and relationships with the apps common but helpful matching features the chances are high that you could find a good day through
this dating app.
So, that's all guys! All these tips for you to be successful these are first is if you're just starting in online dating don't focus on just one, try maybe three or four of them and see what's best for you and stick to it
Second tip is that choosing which photo to pose in your profile matters a lot make sure your photos are current and how you are at your best. Profile photos should be a close-up of you smiling warmly ,you should also include a few full body shots and lastly be patient because it's not that easy so good luck.
I hope his post will help you in finding your possible lifetime partner and if you enjoy and learn something from those words, please don't forget to subscribe this website for more articles like this
See you in next post